jonnyc1988
Sub Adult




United Kingdom
908 Posts

Posted - 16/09/2013 : 12:15:55


---
I'm getting ready to screw a few bits of wood into my boas new viv. Got to wait for custom bulb guard to come for 250w bulb first so i can make sure its not going to be in the way. But thought I would try out so configurations and see what works. This snake isn't shy and enjoys a good climb so I want as many perchs as possible. I was tempted to make a shelf, but I think I will just settle on this. What do you think?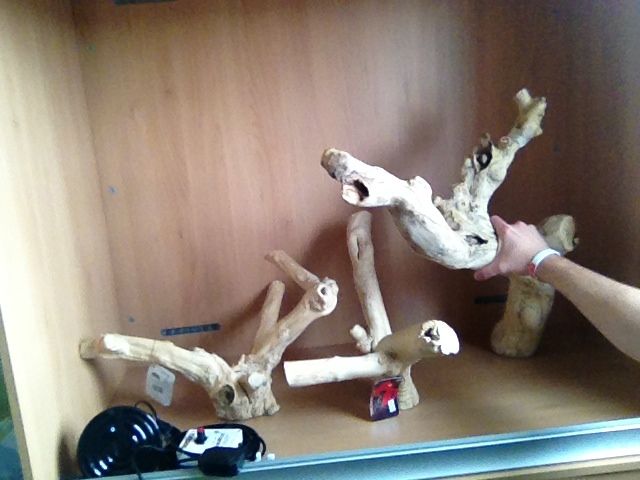 If I can't get a hot spot on the ground when I set up the bulb then I may have to make a shelf for the right side of the viv, and move the big branch over to the left instead.
---

1.0.0 Pastel Royal Python - Juju CB11
0.1.0 Western Hognose - Hetti CB12
1.0.0 Fire Harlequin Crested Gecko - Jasper CB13
0.1.0 Het Kahl Common Boa (bci) - Pandora CB13
1.3.0 Viper geckos
1.1.0 66% PH Toffee 50% Kayuadi reticulated pythons
0.1.0 Platinum Tiger Reticulated python
Baobab
Fully Grown Royal





United Kingdom
1393 Posts

Posted - 16/09/2013 : 22:30:15



---
I think that's going to look awesome. I personally prefer branches to shelves. Snakes just look better on a branch.
---

Royal 8.0 - Piebald (Dipstick), Calico (Flake), Pinstripe (Copper), Kingpin het Hypo (Gabriel), Soulsucker (Morgoth), Clown (Ziggy), Phantom (Spook), Enchi( Stenchi) .................Royal 0.12 - Pastel (Elanor), Spider (Willow), Normal het pied (Loki),, Pastel Sterling Orange Hypo (Misty), Normal (WC parents) (Cinders), Pewter (Tinuviel), Yellowbelly (Kaiko), Mojave (Milly), Champagne (Bubbles), Fire (Flame), Karma paradox (Smudge), Amoretti (Rita).Boa's 2.2.1- Eowyn (common), Snuggles (BCC), Bonnie (BCC), Bear (BCL) & Baileys (Kahl strain)..........Western Hognose 0.0.2 - Timmy & Henry.
Coastal*diamond carpet python 0.0.1- Pippin.........Brazilian Rainbow Boa 0.0.1 - Badger..........Granite Burmese 0.1 - Sally
Reticulated python 2.2 - Saru (purple albino), Cheesy (Sunfire albino white), Titan (Platinum Titanium) & Gala (Sunfiretiger het albino)......Rat snake 1.0 Remmy.


boomslang
Old Royal - I Post too much!






United Kingdom
2025 Posts

Posted - 17/09/2013 : 14:32:58


---
You could have got afew bits,that went across the whole length of the viv etc.

Why don't you screw one to the back/sides,rather then having all the wood floor lvl.
---
1.0.0 pinstripe Royal Python
1.0.0 Bumblebee Royal Python
1.0.0 Normal corn
1.0.0 Extreme red Hognose
0.1.0 Extreme red tiger Hognose
1.1.0 yemen chameleons
1.0.0 Piebald yemen
1.0.0 Tamatave panther
1.0.0 Quadricornis